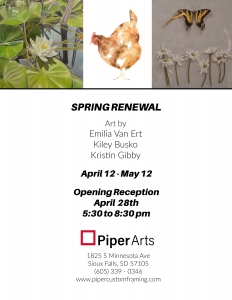 Join us next Friday, April 28th, for our artist reception of Spring Renewal. We will be featuring art by local artists, Emilia Van Ert, Kiley Busko and Kristin Gibby. These fresh paintings remind us that spring is here.
Meet the Artists
Emilia Van Ert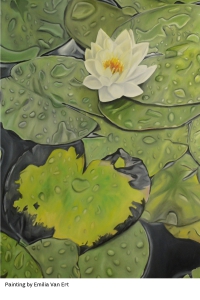 "I grew up in a small town in south central South Dakota. I received my Bachelor of Arts degree at Augustana University and I majored in Art. During college I was primarily interested in fine art photography, plus using photoshop to manipulate my images. At present time I am working and residing in Sioux Falls and my focus has turned to oil paintings and pencil drawings. Most of my work is best described as hyper-realistic. I love the challenge of fine detail work both in portraits and in subjects in nature. Flower blossoms in particular have been very exciting to capture in paint because of their unique beauty and endless varieties. For this spring exhibit i decided to paint a series of Water Lily paintings."
Kiley Busko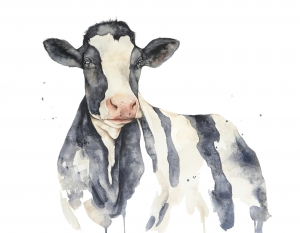 "I find inspiration for my paintings from the local wildlife I see while going on hikes and birdwatching. As much as I am inspired by the natural environment, I am also influenced by the materials I choose to work with. Watercolor paints allow for precision and spontaneity, which I focus on in my paintings. I utilize quick, bold brush strokes with large fluid washes to create a sense of movement and time. In addition, the negative space and abstraction in my work invite viewers to participate in the painting, letting them make their own interpretations of what they see. I also enjoy creating texture and depth by using salt, granulating watercolor paints, and intentionally creating watercolor blooms. One of my favorite things about watercolors is the medium's transparency; you can see each step in the process. I primarily paint birds and other wildlife, but for this collection I decided to paint domesticated animals instead to see if I could capture their unique personalities."
Kristin Gibby
Kristin Gibby is a representational artist using collections from nature to create modern still-life oil paintings. Her work ranges from studies of individual subjects to an exploration of the essential connections between flora and some of the smallest fauna. Many of the entomology specimens in the paintings were found in her own backyard in Freeman, SD and
others have been sent to her from family and friends across the US. Daffodils and wildflowers saved from summer bouquets gathered by her husband and young children are plentiful in the studio. The abundance of life and variety in the natural world offers a consistent source of inspiration for new work.
https://www.pipercustomframing.com/wp-content/uploads/2019/02/Piper-Arts-Logo-300x120.jpg
0
0
Dan Scott
https://www.pipercustomframing.com/wp-content/uploads/2019/02/Piper-Arts-Logo-300x120.jpg
Dan Scott
2023-04-19 16:34:10
2023-04-19 16:34:10
Spring Renewal Art Exhibition