Piper Arts
Art Masters is an annual fine art exhibit at the Minnehaha Country Club (MCC) featuring works of premier regional artists. Each spring, exhibited art will be sold at a fabulous event at MCC, and a whole new Art Masters exhibit will launch. Art Masters starts conversations, encourages art appreciation and contributes to the Club's culture of family and fellowship.
The House Committee of the Minnehaha Country Club was looking for a way to display high-quality, original art in its lobby and main hallways. An art exhibit would strengthen connections between Club members, guests, and the regional arts community. Art starts conversations, and an art exhibit contributes to Minnehaha's family and fellowship culture. We are proud that Minnehaha has named this art exhibit, The Art Masters. 
We wanted Art Masters to fascinate people–pique their curiosity and prompt them to learn more about the art and the artists. The exhibit had to be welcoming to all, yet be appealing to the various tastes of individuals. So a variety of art media and styles are present. 
This display will be on exhibit for about a year, culminating with an art sale at a special event next spring, exclusive to MCC members and invited guests. At that time, we will install a new Art Masters exhibit.
Over the 16 years of our business, we've designed numerous art exhibits for corporate and retail spaces. However, this exhibit is special because of the strong participation of the region's premier artists, the high quality of original art, and the partnership with Minnehaha. 
To create the final layout for the Art Masters display we determined that walls in the Country Club's lobby and main hallways would serve as exhibit spaces. Then, once we received the art pieces, we brought them into the exhibit spaces and arranged them in a suitable fashion. We paid particular attention to how each piece enhanced members' and guests' experiences as they entered the Club and walked through the exhibit.
The walls were covered with wallpaper, and we wanted to minimize the impact. Since the pieces varied in size, and because we plan on refreshing the exhibit annually, we needed to make sure that each space could accommodate art of various sizes and styles. So the hangers are all based off a center point instead of being leveled across the top like you would typically use for an art display. Some pieces, like Kirby Schultz's 8- by 2-feet painting, are odd shapes so setting up the display based off the center hanging point gives us flexibility for future displays.
Each frame was selected by our team of professional framers here at Piper Arts, primarily framed to be an extension of the piece. As with any installation work we do, we took into consideration the decor style of Minnehaha Country Club and chose frames that would also enhance the space.
When selecting the participating artists some of the features we looked for were talent, collectability, and notoriety. Art Masters is about the art and artists, so we wanted to showcase both well-known and up-and-coming artists. The exhibit features 15 regional artists who each specialize in various mediums and styles.
Most of the artists are from the Sioux Falls area. However, Jason Folkets has deep ties to Sioux Falls, but he now lives in Minneapolis, MN. Sarah Rogers has SD roots but now lives in Wyoming. Erin Asmussen lives on a ranch near Agar, SD. 
We decided not to have a specific theme for these pieces. We really wanted to show the members of Minnehaha Country Club a diverse selection of art. We wanted photographers, oils, watercolor, abstract, realism, digital art – basically, a smorgasbord of amazing regional talent. We simply asked the artists to create something original in their preferred medium.
The artists were asked specifically for original works and no prints or reproductions. We also didn't want any imitations of other well-known pieces. This way the display will be fresh and exciting each year, something for club members and the participating artists to look forward to.
Art Masters is for both the artists and the Minnehaha Country Club. Instead of the artists having to donate their art for a cause, we wanted the eventual sale proceeds to return to the artists. At the end of this first exhibit next Spring, the art will be sold (via auction) at a celebratory event at the club. Beyond financial gain, the artists receive significant exposure. Art Masters is displayed in Minnehaha Country Club's lobby and primary hallways. 
The reception at Minnehaha Country Club has been overwhelmingly positive. There were lots of members and staff asking questions and inspecting the pieces while we were installing the display. We have also received lots of comments about how much it's added to the atmosphere of the club–creating more interest in art & the art community.
Club members and guests can view Art Masters anytime. The celebratory sales event in the Spring of 2024 will be exclusive to Club members and their guests. The public can visit the exhibit by calling the Club and making an appointment. For inquiries about a specific piece or artist please contact Piper Arts.
Art Masters 2023 Participating Artists
https://www.piper-arts.com/wp-content/uploads/2023/08/IMG_5860.jpg
480
640
Jon Piper
https://www.pipercustomframing.com/wp-content/uploads/2019/02/Piper-Arts-Logo-300x120.jpg
Jon Piper
2023-08-03 23:29:50
2023-08-24 15:32:39
Art Masters 2023 Exhibition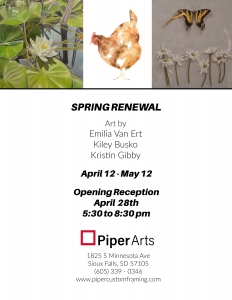 Join us next Friday, April 28th, for our artist reception of Spring Renewal. We will be featuring art by local artists, Emilia Van Ert, Kiley Busko and Kristin Gibby. These fresh paintings remind us that spring is here.
Meet the Artists
Emilia Van Ert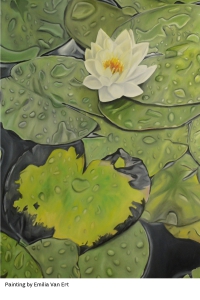 "I grew up in a small town in south central South Dakota. I received my Bachelor of Arts degree at Augustana University and I majored in Art. During college I was primarily interested in fine art photography, plus using photoshop to manipulate my images. At present time I am working and residing in Sioux Falls and my focus has turned to oil paintings and pencil drawings. Most of my work is best described as hyper-realistic. I love the challenge of fine detail work both in portraits and in subjects in nature. Flower blossoms in particular have been very exciting to capture in paint because of their unique beauty and endless varieties. For this spring exhibit i decided to paint a series of Water Lily paintings."
Kiley Busko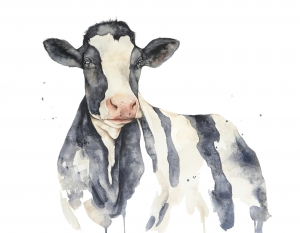 "I find inspiration for my paintings from the local wildlife I see while going on hikes and birdwatching. As much as I am inspired by the natural environment, I am also influenced by the materials I choose to work with. Watercolor paints allow for precision and spontaneity, which I focus on in my paintings. I utilize quick, bold brush strokes with large fluid washes to create a sense of movement and time. In addition, the negative space and abstraction in my work invite viewers to participate in the painting, letting them make their own interpretations of what they see. I also enjoy creating texture and depth by using salt, granulating watercolor paints, and intentionally creating watercolor blooms. One of my favorite things about watercolors is the medium's transparency; you can see each step in the process. I primarily paint birds and other wildlife, but for this collection I decided to paint domesticated animals instead to see if I could capture their unique personalities."
Kristin Gibby
Kristin Gibby is a representational artist using collections from nature to create modern still-life oil paintings. Her work ranges from studies of individual subjects to an exploration of the essential connections between flora and some of the smallest fauna. Many of the entomology specimens in the paintings were found in her own backyard in Freeman, SD and
others have been sent to her from family and friends across the US. Daffodils and wildflowers saved from summer bouquets gathered by her husband and young children are plentiful in the studio. The abundance of life and variety in the natural world offers a consistent source of inspiration for new work.
https://www.pipercustomframing.com/wp-content/uploads/2019/02/Piper-Arts-Logo-300x120.jpg
0
0
Dan Scott
https://www.pipercustomframing.com/wp-content/uploads/2019/02/Piper-Arts-Logo-300x120.jpg
Dan Scott
2023-04-19 16:34:10
2023-04-19 16:34:10
Spring Renewal Art Exhibition
Piper Arts is a proud sponsor of Emily's Hope. Piper Arts's is a proud sponsor of Emily's Hope. Every year we donate our framing services as well as collaborate with local artists who participate in the auction.
Emily's Hope is a charity dedicated to removing the stigma of substance use disorder through awareness, education, and prevention. Learn more about the organization here: https://www.emilyshope.foundation/
You can check out some of the wonderful artwork up for auction to benefit Emily's Hope. The event is Saturday, January 28th, but you can start bidding on the silent auction now!
https://www.pipercustomframing.com/wp-content/uploads/2019/02/Piper-Arts-Logo-300x120.jpg
0
0
Dan Scott
https://www.pipercustomframing.com/wp-content/uploads/2019/02/Piper-Arts-Logo-300x120.jpg
Dan Scott
2023-01-25 14:24:03
2023-02-01 16:14:10
Emily's Hope Art Show & Auction
https://www.pipercustomframing.com/wp-content/uploads/2019/02/Piper-Arts-Logo-300x120.jpg
0
0
Dan Scott
https://www.pipercustomframing.com/wp-content/uploads/2019/02/Piper-Arts-Logo-300x120.jpg
Dan Scott
2022-11-09 16:08:39
2022-11-09 16:08:39
Featured Artist: Deya Thorin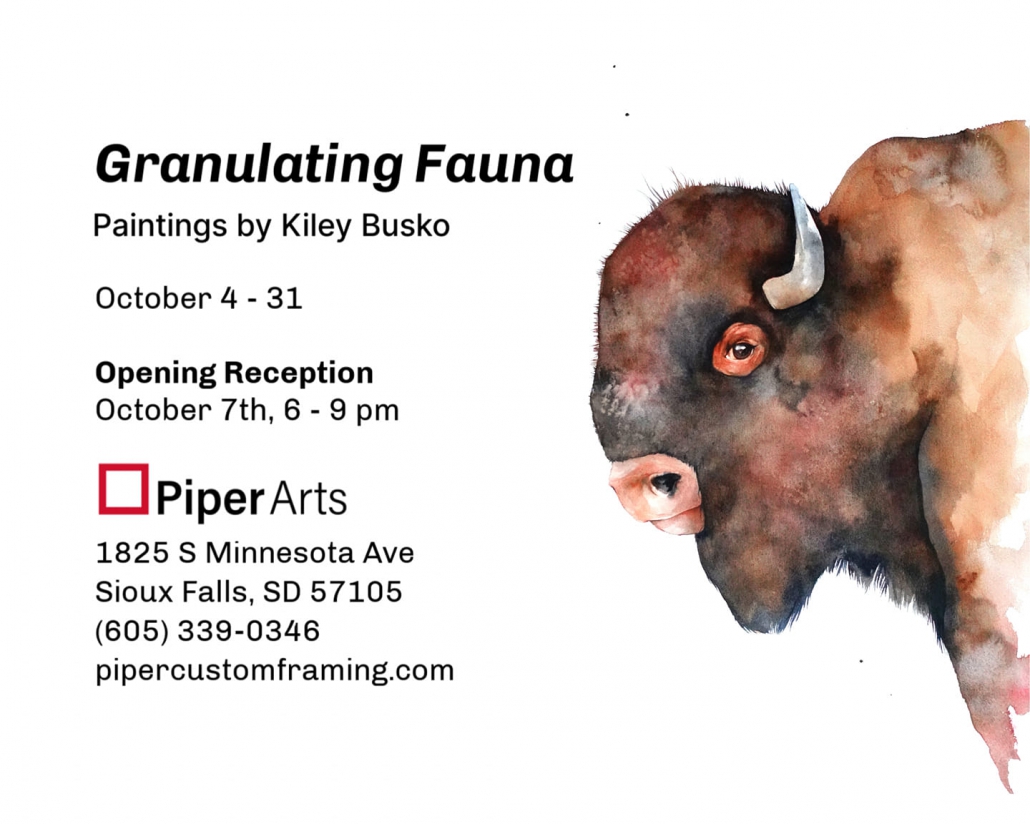 Watercolors by Kiley Busko
Join us on Friday, October 7, from 6 to 9 pm as we celebrate the opening of Granulating Fauna, a new exhibition of work by local Sioux Falls artist Kiley Busko, who recently rediscovered her passion for watercolor painting after being inspired by the wildlife found in the Midwest. The exhibition will be on display from October 4 through October 31, 2022.
Kiley finds inspiration for her paintings from the local wildlife she sees while hiking and birdwatching. As much as she is inspired by the natural environment, she is also influenced by the materials she works with. The diversity of watercolor paints allows for both precision and spontaneity which Kiley merges within her paintings, using quick bold brushstrokes with large fluid washes to create a sense of movement and time. Using negative space and abstraction allows viewers to interpret what they are seeing. Kiley enjoys creating texture and depth by using salt, granulating watercolor paints and intentionally creating watercolor blooms. Kiley says she is inspired by the beauty of her subjects and tries to capture their unique personalities in her expressive paintings.

Born and raised in Sioux Falls, Kiley received her BFA in Furniture Design from the Minneapolis College of Art and Design. Upon graduating she was awarded with the Windgate Fellowship from the Center of Craft, Creativity and Design. While living in Minneapolis she co-owned a custom furniture business with her husband Sam. She now lives and works in Sioux Falls, SD.
https://www.piper-arts.com/wp-content/uploads/2022/09/KileyBusko-GranulatingFauna-Exhibition.jpg
1152
1440
Kara Mathis
https://www.pipercustomframing.com/wp-content/uploads/2019/02/Piper-Arts-Logo-300x120.jpg
Kara Mathis
2022-09-23 09:00:32
2022-09-23 11:50:48
Granulating Fauna Exhibition October 2022
The Michael Jordan custom shadowbox we completed was featured as the "Design of the Month" in Picture Framing Magazine's October 2021 Sports Memorabilia issue. This project challenged our creativity with both the size and nature of the items to be preserved, not to mention sourcing materials during the pandemic. It's a nice compliment that our efforts were recognized in an industry-focused publication.
https://www.piper-arts.com/wp-content/uploads/2021/10/PFM_Oct2021-horiz.jpg
159
282
Dan Scott
https://www.pipercustomframing.com/wp-content/uploads/2019/02/Piper-Arts-Logo-300x120.jpg
Dan Scott
2021-10-26 12:47:03
2022-09-23 13:05:16
Jordan Shadowbox Project Featured in National Magazine

Local Artists Collaborate on the Beauty of South Dakota in New Exhibition
Piper Arts is proud to present a collaborative exhibition of new works featuring Joshua Spies and Paul Schiller. The "Prairie Majesty – An Art Exhibition of the Great Plains" will run from October 11th, 2019 – November 30th, 2019 with an opening reception on Friday, October 11th from 5:00 PM – 8:00 pm. The exhibition will have pieces featuring charcoals and photography showcasing the beauty of South Dakota.
Joshua Spies is an international award-winning artist from Sioux Falls, SD. He earned his fine arts degree at South Dakota State University and has traveled the world creating a vast portfolio of drawings, paintings, charcoals, and photography. Joshua is a dedicated conservationist and, through his artwork, has helped raise millions of dollars for conservation projects locally and worldwide. After decades of travelling abroad, Joshua has a greater appreciation of the beauty and uniqueness of his home state and uses it as a catalyst for his new artistic pursuits.
Paul Schiller started his career as a photojournalist. He later co-founded Lawrence & Schiller and Five Star Call Centers with business partner Craig Lawrence here in Sioux Falls. He followed these successful ventures with "Acts of Nature" a company he and
his wife Koni created to market their fine art nature images. Utilizing panoramic and macro photography to re-imagine scenes that go unnoticed, Schiller captures the remarkable diversity of South Dakota and the northern plains. His work appears throughout the Midwest in galleries, homes, corporate and healthcare facilities, including a permanent exhibit at the Al Neuharth Media Center at the University of South Dakota.
Showcasing the great plains of South Dakota, the "Prairie Majesty" exhibition will explore two artistic points of view of the same subject matter: a digital photographic capture by Paul Schiller vs. a traditional charcoal drawing of the same image by Joshua Spies.
The "Prairie Majesty" show will run through November 31, 2019. The artists will be present at the opening reception Friday, October 11th, 2019 from 5:00pm – 8:00 pm. Piper Arts is located at 1825 S Minnesota Ave, Sioux Falls, SD. Piper Arts gallery hours are Monday – Thursday 9:00 am – 5:00 pm, Friday 10:00 am – 4:00 pm and Saturday 10:00 am – 3:00 pm. For additional information, please contact Piper Arts at 605-339-0346.
https://www.piper-arts.com/wp-content/uploads/2019/09/Prairie-Majesty-invite_V3-2-20190925_120601.jpg
953
1500
Dan Scott
https://www.pipercustomframing.com/wp-content/uploads/2019/02/Piper-Arts-Logo-300x120.jpg
Dan Scott
2020-10-02 09:42:43
2020-10-02 09:54:49
Prairie Majesty Exhibition
https://www.piper-arts.com/wp-content/uploads/2019/02/Photo-Jan-08-2-08-40-PM-e1550080125406.jpg
4032
3024
Jon
https://www.pipercustomframing.com/wp-content/uploads/2019/02/Piper-Arts-Logo-300x120.jpg
Jon
2019-02-13 12:09:18
2019-07-09 11:26:12
David Sieh's Method

Recently I had the opportunity to raise the value of a painting I own by firmly establishing its provenance by sitting down with the artist who made the work and learning how it came to be. Around 2012, I was offered the opportunity to purchase a painting by Eyob Mergia for well below market value from a charitable organization that received the painting as a donation. What spurred me to make the purchase was the beautiful color, specifically a mixture of pink, peach and orange colors that vibrate as a background for several brown and blue figures. The color in this painting engages my senses every day as I pass it by or sit in a chair looking at it. Even though I knew nothing about the creation of this painting, I enjoyed having it in my home.
In November Jon Piper told me that Eyob would be visiting his shop, Piper Arts (formerly Piper Custom Framing and Fine Art Gallery), for a few days in the following week. I asked Jon if I could drop off my painting to be signed and if possible meet with Eyob to get the story behind the painting. Jon arranged a meeting and I sat down and talked with Eyob.
Eyob explained to me that he painted this picture in 2010. One evening he had gone out to a bar downtown with several friends and when he arrived back at his studio that night he started this painting to commemorate the enjoyable experience he had just had. He further explained that at that point he was learning a lot from the work of Pablo Picasso and African Art and these two influences can be seen in the painting. He then told me the painting is called "Saturday Night." Eyob did sign the painting and I have an audio recording of him telling me about the painting and the circumstances that brought it into existence.
For six years I had hung the painting unframed on my living room wall. I took this opportunity to have Jon put a simple black box frame around the painting to both protect the surface and to set it off from the wall. Now the painting is a whole new experience for me. The physical object is more dominant, more impressive and my interest has been renewed. My family have all been surprised by how its place in the room has been strengthened and made new.
We collect art mostly for the stories an artwork can tell us about ourselves. An opportunity to learn more about that story through a discussion with the artist is one way to make the ownership experience better. Well thought out framing and presentation makes the story richer for all viewers, and of course, getting the painting signed by the artist is always a smart thing to do. I feel lucky for the opportunity that presented itself to meet with the artist, and hear the back-story; it made a treasured object even more meaningful.
https://www.piper-arts.com/wp-content/uploads/2019/01/IMG_2654.jpg
4032
3024
Jon
https://www.pipercustomframing.com/wp-content/uploads/2019/02/Piper-Arts-Logo-300x120.jpg
Jon
2019-01-14 12:16:25
2019-07-09 11:26:20
Establishing Provenance and Great Framing Can Add Value to a Work of Art

Robert Aldern was an American modernist whose work (painting and drawing) was informed by the landscape of the Great Plains and specifically by the muddy colors and small seasonal shifts of Southeast South Dakota. Aldern was part of the post WWII generation of artists that expanded university art education by leaps and bounds; he spent a career teaching at SDSU, USD and finally Augustana University.
His personal artwork is a response to the local landscape. I never met Mr. Aldern but have come to appreciate his work for its visceral strength and keen observation. Work that appears simple and direct becomes a nuanced meditation on small color shifts and translucent patterns, available to the viewer if she is willing to continue looking without preconception. His work is not to be missed.
Piper Arts, formerly Piper Custom Framing, has a meaty selection of work on display though the end of the year. This may be your only opportunity to see a strong selection of Aldern's work in one place.
https://www.piper-arts.com/wp-content/uploads/2018/11/RObert-Aldern-Blog-3.jpg
1304
1265
Jon
https://www.pipercustomframing.com/wp-content/uploads/2019/02/Piper-Arts-Logo-300x120.jpg
Jon
2018-11-28 14:50:56
2019-07-09 11:26:25
Getting to Know Robert Aldern